Bronze-winged Jacana
From SongbirdReMixWiki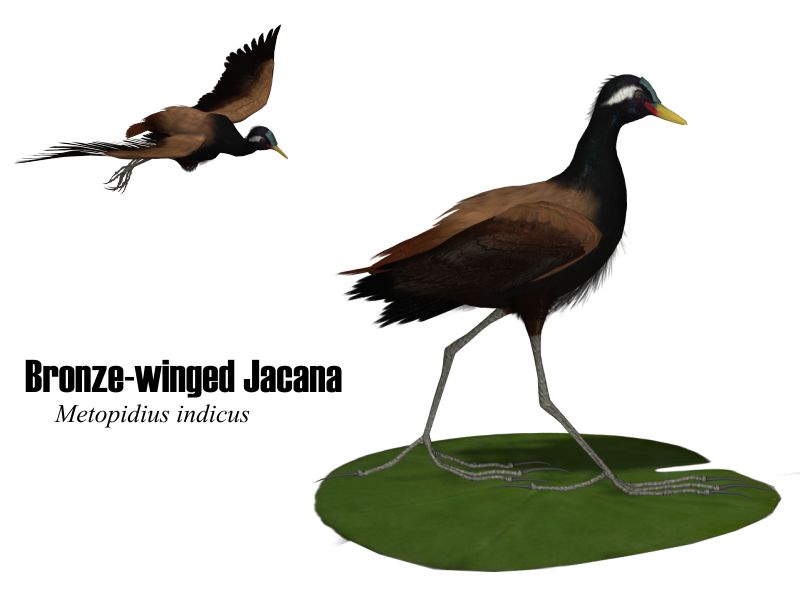 Common Name: Bronze-winged Jacana
Scientific Name: Metopidius indicus
Size: 11 - 12 inches (27-30cm)
Habitat: Asia; breeds in India and Southeast Asia. It is sedentary apart from seasonal dispersion. Floating vegetation in the shallow lakes that are their preferred habitat.
Status: Least Concern. Global population: 50,000 to 100,000. The species is locally threatened by wetland degradation and loss through flooding, drainage and overgrazing.
Diet: Insects, other invertebrates and seeds picked from the floating vegetation or the water's surface.
Nesting: Females are larger than males but look alike. Young birds have brown upperparts. Their underparts are white, with a buff foreneck. Females lays four black-marked brown eggs in a floating nest and males incubate the eggs.
Cool Facts: The call is a wheezy piping 'seek-seek-seek' given mostly in alarm. When forced they sometimes choose to hide by submerging themselves. The male may carry chicks between the wings and body.

Found in Songbird ReMix Jacanas