Main Page
From SongbirdReMixWiki
(Difference between revisions)
Line 11:
Line 11:

<h2>Latest Updates to the Wiki</h2>

<h2>Latest Updates to the Wiki</h2>

-

:08JUN12: [[Purple-crowned Fairy-wren]] added to Australian section

+

:

+

: [[Purple-crowned Fairy-wren]] added to Australian section

:08JUN12: Products references to new DAZ3D store corrected throughout wiki

:08JUN12: Products references to new DAZ3D store corrected throughout wiki

:05JUN12: [[Hyacinth Macaw]], [[Red-eyed Vireo]], [[Song Sparrow]] and [[American Redstart]] added

:05JUN12: [[Hyacinth Macaw]], [[Red-eyed Vireo]], [[Song Sparrow]] and [[American Redstart]] added
---
Revision as of 01:16, 27 June 2012
Welcome to the Songbird ReMix Central Wiki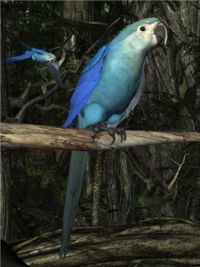 Latest Updates to the Wiki
26JUN12: Pink-necked Green Pigeon, ‎Luzon Bleeding Heart, Formosan Blue Magpie, Bohemian Waxwing and Green Jay added.
20JUN12: Purple-crowned Fairy-wren added to Australian section
08JUN12: Products references to new DAZ3D store corrected throughout wiki
05JUN12: Hyacinth Macaw, Red-eyed Vireo, Song Sparrow and American Redstart added
The Songbird ReMix Project
The Songbird ReMix Project consists of one bird mesh that can be morphed and textured into hundreds of different bird species. The base model can be morphed into such species as the Greater Roadrunner, a House Sparrow and a Red-headed Woodpecker. The model has built in morphs to allow accurate folding of the wings, flight and perching and had a low polygon count allow possible flock renders. The model has been used in the science fields to demonstrate courtship behavior, published depicting endangered and extinct status of bird species and is used by professional and amateur artists for commercial and private use. The model is in wavefront (.obj) format so it can be accessed by most of the affordable popular 3D packages such as Poser, DAZ|Studio, Carrara and Vue as well as high-end packages as Max and Maya.
Here's a 2007 movie that briefly describes the Songbird ReMix series:
History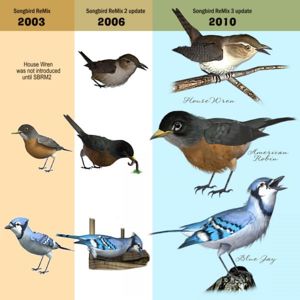 The original "Songbird" model was created by Anton Kisiel who sold the rights to DAZ 3D. The Kisiel Model is now known as the "DAZ Songbird".
In 2003, the model was revised (or ReMixed) by B.L. Render who corrected the anatomy and added many features such as folding wings and character morphs, and remapped the model. Her partner, Ken Gilliland, using the new morphs, created the bird species and textured them. After the release of Songbird Remix Woodpeckers, B.L. Render left the partnership and Gilliland took control of the ReMix series.
In 2006, the model was "ReMixed" again, this time by Ken Gilliland, adding more complex morphs and geometry to create more complex birds such as hummingbirds, quail and kingfishers.
In 2007, he began hybridizing the model with specific bird base models to create Turkeys, Toucans, a variety of Sea and Shorebirds and even Owls.
Returning to the original Songbird ReMix model in 2010, Ken remixed the model a third time, creating a much more realistic bird than the prior versions. The model underwent a significant structural change with the hips moved forward. In addition, several of the detached crests created in 2006 were incorporated into the mesh, more transparency layers were added and many of the 2003 morphs were revised. New base models were also created to improve bird realism. These new base models included: Songbird Base, Gamebird Base, Parrot Base, Zygodatcyl Base and a Syndatcyl Base. Older bird libraries that used the SBRM 1 and 2 versions of the model were updated in late 2010 and 2011 to use the newer models. The series completed it's updates to Songbird Remix 3 in April 2011.
Gilliland said that this will probably be the last time this model is remixed as he will move to hybridized versions with a higher resolution mesh.
Why do birds?
Birds are popular... Besides the purchase of domestic bird as pets, we purchase wild birdseed, bird feeders, birdhouses, bird field guides, binoculars, and even go on birding trips to distant countries. People spend more on birds than even cats and dogs.
Many within the scientific community believe that songbirds are bell-weathers for the health of our planet. In places where songbird populations are in decline, symbiotic partnership are thrown out of balance giving early warning sings that our planet in peril.
And finally, by creating threatened, endangered and extinct bird species in digital format and using them in imagery, animation and film we can educate the public about the mistakes we've made in the ecosystem and what measures we need to take to keep our planet not only healthy for birds, but the human species as well.