Black-throated Sparrow
From SongbirdReMixWiki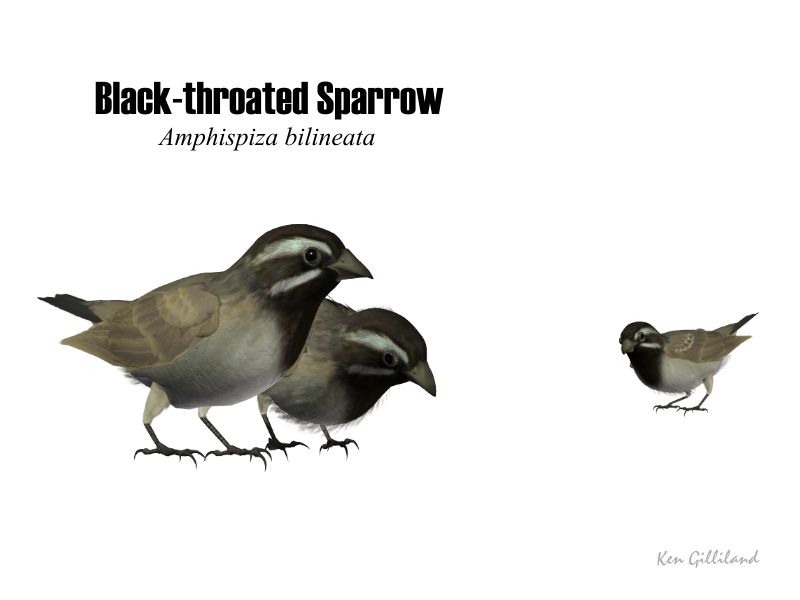 Common Name: Black-throated Sparrow
Scientific Name: Amphispiza bilineata
Size: 5-6 inches (12-14cm)
Habitat: North America. Summers: Breeds from southern Oregon and Idaho southward to central Mexico and central Texas. Also locally in Washington and central California. Winters: From southern Nevada and central Texas southward.
Status: Least Concern. Global Population: 30,000,000 mature adults. Declining across range in United States, probably because of habitat loss to urban development. .
Diet: Seeds and some insects.
Breeding: Sparrows are generally ground nesters.
Cool Facts: The song is a series of two opening notes followed by a buzz or trill, or sometimes several. Black-throated Sparrows are often found in mixed flocks of White-crowned Sparrows and Brewer's Sparrows in the winter. The Black-throated Sparrow is the king of the desert-adapted sparrows as it can satisfy all its water requirements from the seeds and insects it eats. It will, however, take advantage of spring water if available.
The Black-throated Sparrow establishes a large territory it defends during nest construction and egg laying. Once incubation starts, males are less responsive to intruders and their territory boundary shrinks.