Borin Wood Pigeon
From SongbirdReMixWiki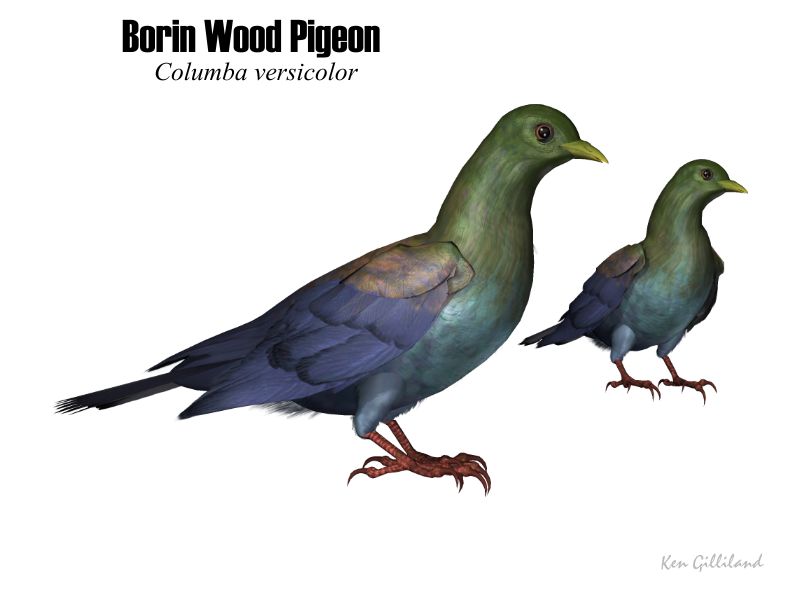 Common Name: Bonin Wood Pigeon
Scientific Name: Columba versicolor
Size: 17 1/2 -18 inches (45 cm)
Habitat: Japan. Endemic to Nakodo-jima and Chichi-jima in the Ogasawara Islands off the coast of Japan. Lived in conifer forests.
Status: Extinct. Global Population: 0. Its extinction was caused by deforestation, hunting and predation by introduced rats and cats. The last known specimen of a Bonin Wood-pigeon was taken in 1889.
Diet: Fruits, seeds and buds.
Nesting: Unknown
Cool Facts: The Bonin wood-pigeon is recorded from just two islands in the Ogasawara Group-Peel Island, where it was discovered by naturalists travelling with Captain Beechey on the Blossom in 1827, and Nakondo-shima, where the last specimen was taken in 1889. Friedrich von Kittlitz also collected it on Peel in 1828. The last animal seen was a male obtained by a Mr Holst, who was collecting for the British ornithologist Henry Seebohm. It was a large and beautiful pigeon, and may have always been rather uncommon. Almost nothing is known of its natural history, although Errol Fuller, a researcher on obscure and extinct birds, considers that it fed on fruits, seeds and buds. Three specimens exist, in museums in Russia, Germany and Britain.