Eastern Towhee
From SongbirdReMixWiki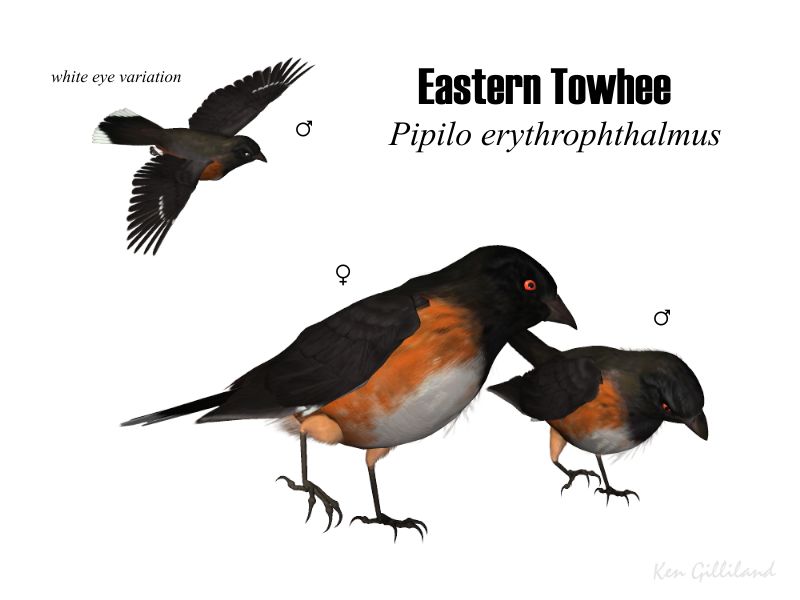 Common Name: Eastern Towhee
Scientific Name: Pipilo erythrophthalmus
Size: 7-8.5 inches ( 17-22 cm)
Habitat: United States; East of Mississippi. Summer Range: Breeds from southern Canada, Manitoba to Quebec, southward to western Louisiana and southern Florida. Winter Range: Winters from Oklahoma, southern Ohio, and New Jersey southward to central Texas and Florida. Occasionally farther north to southern New England. Found in shrub habitats, often in dry environments and open ground, old fields and forest edges
Status: Not threatened but populations declining throughout range, most severely in New England.
Diet: Insects and seed, occasionally fruit. Forages on the ground, scratching in a two-footed, backwards-scratching hop called a "double-scratch".
Breeding: Two to six eggs are laid in a ground nest at base of upright vegetation or in vine tangle or shrub. Nest made of bark strips, dead leaves, grass, plant stems, small twigs, and other material; lined with fine grass and rootlets, and sometimes hair.
Cool Facts: The Eastern Towhee was considered the same species as the Spotted Towhee until 1995. Where the two forms, Eastern and Spotted, meet in the Great Plains, hybrids occur.
The Eastern Towhee has red eyes across most of its range, but the towhees in Florida and extreme southern Georgia have pale straw-colored eyes. Eye color is variable from southern Alabama to southeastern North Carolina, with the most variability in Georgia and coastal South Carolina. This pattern may reflect the fact that the pale-eyed form, which was isolated when Florida was an island during the Pleistocene era, is now coming back in contact with the red-eyed form of the mainland.
Found in Free Downloads