Scarlet-collared Flowerpecker
From SongbirdReMixWiki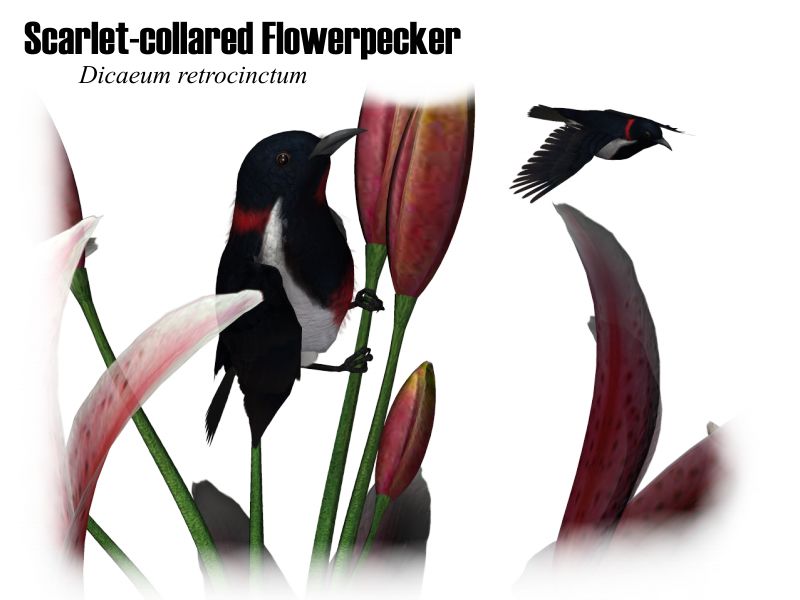 Common Name: Scarlet-collared Flowerpecker
Scientific Name: Dicaeum retrocinctum
Size: 4 inches (10cm)
Habitat: Asia; endemic to the Philippines (Mindoro, Panay and Negros). On Mindoro it was formerly abundant and still considered fairly common as recently as the 1980s. Data from 1991 surveys show that it remains common in one or two remnant forest tracts on the island but has declined steeply elsewhere. Numbers on Negros, where it is known from just two sites, may be very small. The size of the Panay population is unknown.
It inhabits closed canopy forest, chiefly below 1,000 m but occasionally up to 1,200 m. It also occurs in secondary and logged forest, forest edge and occasionally well-cultivated areas. However, it appears generally intolerant of highly degraded habitat, although it does frequent fruiting or flowering trees in forest patches and scrub.
Status: Threatened. Global Population: 10,000-19,999 Mature individuals and decreasing. Extensive lowland deforestation has occurred on all three islands. In the late 1980s, it was estimated that just 120 km of forest remained on Mindoro, with a very small proportion below 1,000 m. On Negros 4% and on Panay 8% of the land area remains forested. Several key sites on Mindoro are threatened. Siburan suffers from encroaching slash-and-burn agriculture by locally resettled people and occasional selective logging. Dynamite blasting for marble is a threat to forest at Puerto Galera.
The forest at Siburan is effectively part of the Sablayan penal colony and is included in the F. B. Harrison Game Reserve. Site-conservation actions and a Forest Management Plan were produced by the local stakeholders for the Sablayan forests (including Mt. Siburan) and these are now being implemented. More conservation actions are planned for Mt. Siburan with support from Jenzen foundation, EU, CEPF, Body Shop and BirdLife International Species Guardians. IBA Monitoring System was set up in the Mt. Siburan area in May 2007 involving the local partners: LGU Sablayan, DOJ-SPPF, DENR, SASAMAKA (a local NGO) and Haribon Foundation. Funding has also been provided for conservation initiatives at Puerto Galera and a conservation education program has been started at Malpalon. It has been recently recorded in Mt Iglit-Baco National Park (Mindoro), the nominally protected North Negros Forest Reserve, the proposed Central Panay Mountains National Park and the Mt Talinis/Twin Lakes area on Negros, which has been proposed for conservation-related funding.
Diet: Fruit, flower nectar and occasionally insects and spiders.
Breeding: Both sexes alike. Black upperparts with blue gloss and bright red collar on hindneck. Black throat with red central spot, black upper breast, bright red line down centre of breast and belly outlined in black. Rest of underparts whitish. Long, fine bill. 2-4 eggs are laid, typically in a purse-like nest suspended from a tree.
Cool Facts: Voice: Song a series of thin, high-pitched, sweet notes. Call is a hard 'tup tup'. Often sings from exposed perches. Also frequents fruiting trees.