Swainson's Toucan
From SongbirdReMixWiki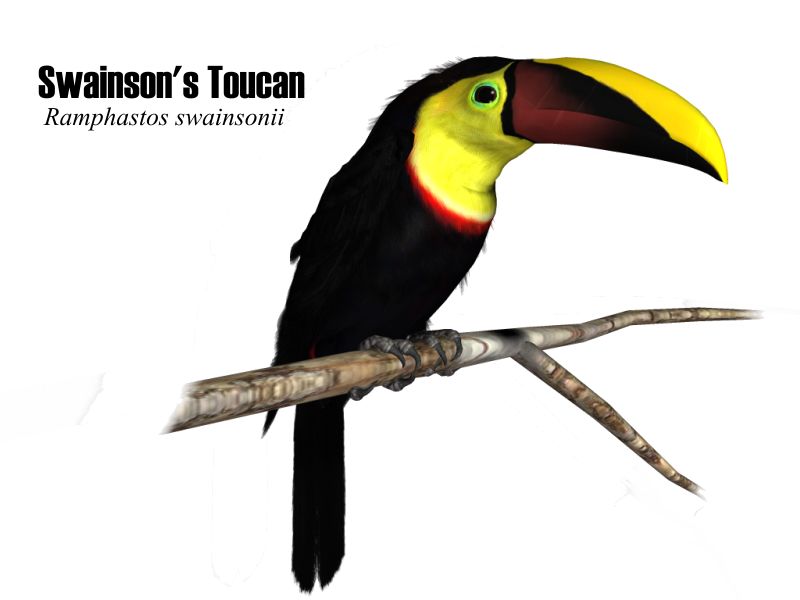 Common Name: Swainson's or Chestnut-mandibled Toucan

Scientific Name: Ramphastos swainsonii
Size: 20 ½ - 22 inches (52-56 cm)
Habitat: South America. Found in eastern Honduras to northern Colombia. Found in the canopy level of forest and also in open forest areas,
Status: Least Concern. Global Population: unknown.
Diet: Arboreal fruit-eaters, but will also take insects, lizards, bird eggs, and other small prey. Flocks will follow Keel-billed Toucans to exploit their sources of food.
Nesting: The male is 56cm long and weighs 750g (26.5 oz). The smaller female is typically 52cm long and weighs 580g (20.5 oz). The sexes are alike in appearance. Juvenile birds are sooty-black, and have duller plumage, particularly with respect to the bib, red border, and lower mandible.
It is a resident breeder in moist lowland forest. The 2-4 white eggs are laid in an unlined cavity high in a decayed section of a living tree, or occasionally in an old woodpecker nest in a dead tree.
Both sexes incubate the eggs for at 14-15 days, and the toucan chicks remain in the nest after hatching. They are blind and naked at birth, and have short bills and specialized pads on their heels to protect them from the rough floor of the nest. They are fed by both parents, and fledge after about 6 weeks.
Cool Facts: The call of the Chestnut-mandibled Toucan is a yelping yo-YIP, a-yip, a-yip, or a Dios te dé, Dios te dé. It is given to maintain contact as the flock travels in "follow-my-leader" style through the trees, but also in chorus at the evening roosts.
Found in Songbird ReMix Toucans