Tufted Titmouse
From SongbirdReMixWiki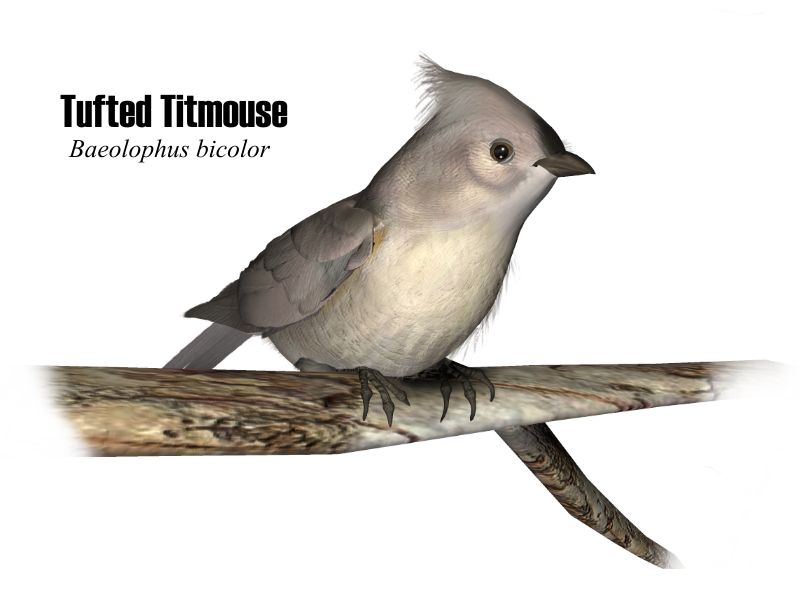 Common Name: Tufted Titmouse
Scientific Name: Baeolophus bicolor
Size: 6.5 inches (14.5 cm)
Habitat: North America; within the United States, east of the Mississippi. Found in most eastern woodlands below 2,000 feet elevation, including deciduous and evergreen forests. Tufted Titmice are also common visitors at feeders and can be found in backyards, parks, and orchards.
Status: Least Concern. Global Population: 12,000,000 Mature individuals. The population appear stable or slightly increasing.
Diet: Seed and some small insects. They will wedge seeds in bark and hammer at them to open them.
Breeding: Most titmice find a mate in their first fall. Those that do not are excluded from territories and must live in marginal habitat until they find a vacancy. Unlike many chickadees, Tufted Titmouse pairs do not gather into larger flocks outside the breeding season. Instead, most remain on the territory as a pair. Frequently one of their young from that year remains with them, and occasionally other juveniles from other places will join them. Rarely a young titmouse remains with its parents into the breeding season and will help them raise the next year's brood.
Tufted Titmice nest in tree holes (and nest boxes), but they can't excavate their own nest cavities. Instead, they use natural holes and cavities left by woodpeckers. These species' dependence on dead wood for their homes is one reason why it's important to allow dead trees to remain in forests rather than cutting them down.
Three to nine eggs are laid in a tree hole or nest box. The nest is generally lined with mosses, feathers and grasses. Tufted Titmice often line the inner cup of their nest with hair, sometimes plucked directly from living animals. The list of hair types identified from old nests includes raccoons, opossums, mice, woodchucks, squirrels, rabbits, livestock, pets, and even humans.
Cool Facts: The largest of the North American Titmice. Very acrobatic and often hang upside down although they appear slower and more methodical than chickadees. They often flock with chickadees, nuthatches, and woodpeckers and are regular visitors to feeders, where they are assertive over smaller birds. Their flight tends to be fluttery but level rather than undulating.
Tufted Titmice hoard food in fall and winter, a behavior they share with many of their relatives, including the chickadees and tits. Titmice take advantage of a bird feeder's bounty by storing many of the seeds they get. Usually, the storage sites are within 130 feet of the feeder. The birds take only one seed per trip and usually shell the seeds before hiding them.
The Black-crested Titmouse of Texas and Mexico has at times been considered just a form of the Tufted Titmouse. The two species hybridize where they meet, but the hybrid zone is narrow and stable over time. They differ slightly in the quality of their calls, and show genetic differences as well.
The oldest known wild Tufted Titmouse lived to be 13 years 3 months old.

Found in Free Downloads