White-browed Bushchat
From SongbirdReMixWiki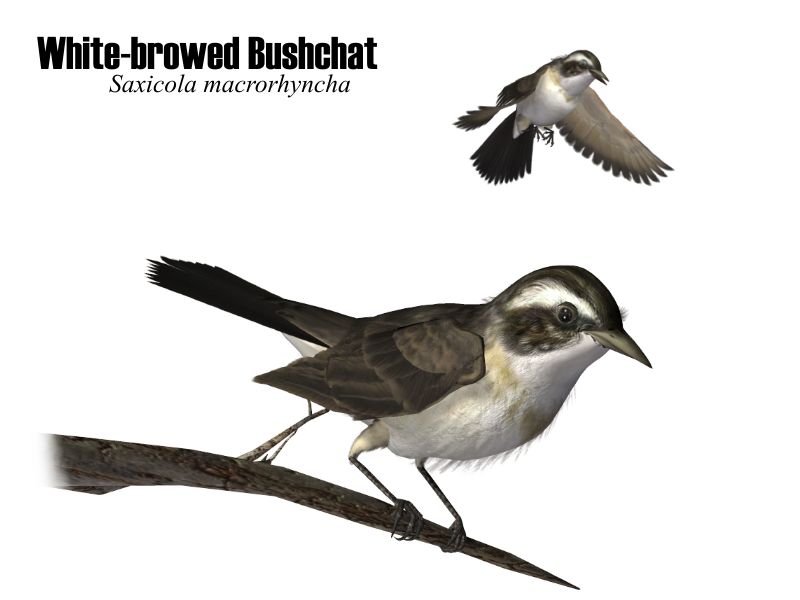 Common Name: White-browed Bushchat
Scientific Name: Saxicola macrorhyncha
Size: 6 ½ -7 inches (17 cm)
Habitat: Asia; India and Pakistan. Generally occurs in subtropical thorn-scrub and sandy semi-desert. It inhabits dry, sandy semi-deserts and desert plains with low herbs and scattered shrubs, where groundcover ranges between 25% and 50%.
Status: Vulnerable. Global Population: 2,500-9,999 mature individuals with a declining trend. The key threat is agricultural intensification and encroachment, primarily through the introduction of irrigation schemes to semi-arid areas and their subsequent conversion into croplands. Overgrazing by livestock may also reduce the extent of suitable habitat. These trends are expected to continue with the development of the Rajasthan Canal and widespread application of modern agricultural techniques.
Diet: Insects; mostly comprising beetles, ants or flying insects
Nesting: Nothing is known about breeding habits.
Cool Facts: This bird is also known as Stoliczka's Bushchat. Breeding males are dark above with mostly blackish mask and wings, broad white supercilium and band along inner wing coverts and mostly white primary coverts. Non-breeding male has broad buffish fringing above and buffish-fringed remiges with less white. Female resembles non-breeding male but lacks dark mask and white on tail. Wings duller. Juvenile is darker brown above than female, with buff streaks and spots and whitish below, indistinctly brown mottled throat and breast.