Wille-wagtail
From SongbirdReMixWiki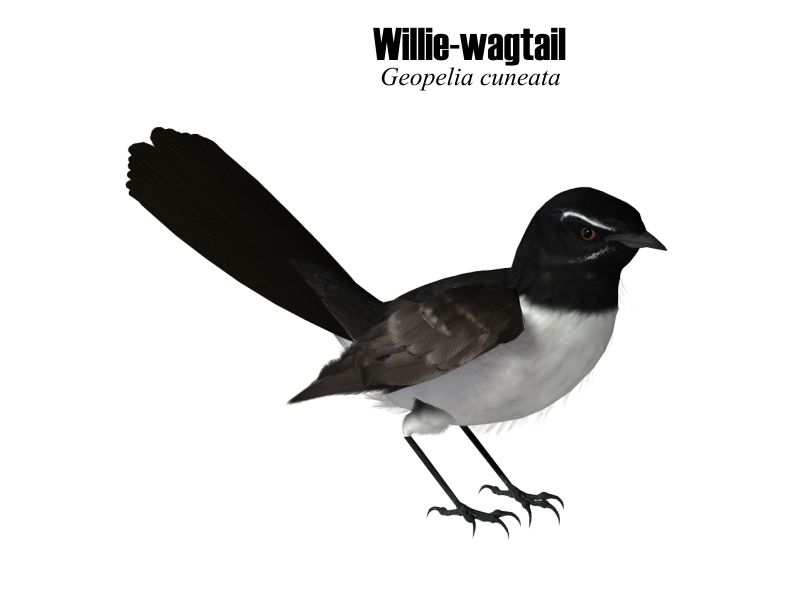 Common Name: Willie-wagtail
Scientific Name: Geopelia cuneata
Size: 7 ½ - 8 ½ inches (19-21.5 cm)
Habitat: Australia; found across most of Australia and New Guinea, the Solomon Islands, the Bismarck Archipelago, and eastern Indonesia. It is sedentary across most of Australia, though some areas have recorded seasonal movements; it is an autumn and winter visitor to northeastern New South Wales and southeast Queensland, as well as the Gulf Country and parts of Cape York Peninsula in the far north. It is a vagrant to Tasmania, and on occasion reaches Lord Howe Island.
The Willie Wagtail is at home in a wide variety of habitats, but avoids densely forested areas such as rainforest. It prefers semi-open woodland or grassland with scattered trees, often near wetlands or bodies of water. In New Guinea, it inhabits manmade clearings and grasslands, as well as open forest and mangroves. On Guadalcanal, it was reported from open areas and coconut groves. It has responded well to human alteration of the landscape and can often be seen hunting in open, grassed areas such as lawns, gardens, parkland, and sporting grounds. The species spread into the Western Australian Wheatbelt after the original vegetation had been cleared for agriculture
Status: Least Concern. Global population: unknown. Although it is active in defending its territory, the Willie Wagtail is very tolerant and tame around humans, often feeding and nesting in close proximity of houses and human activity.
Diet: Mostly Arthropods (including butterflies, moths, flies, beetles, dragonflies, bugs, spiders, centipedes, and millipedes). It perches on low branches, fences, posts, and the like, watching for insects and other small invertebrates in the air or on the ground. It usually hunts by hawking flying insects such as gnats, flies, and small moths, but will occasionally glean from the ground. It will often hop along the ground and flit behind people and animals, such as cattle, sheep or horses, as they walk over grassed areas, to catch any creatures disturbed by their passing. It has been seen taking ticks off asleep lions at the zoo.
Nesting: Willie Wagtails usually pair for life. The breeding season lasts from July to December, more often occurring after rain in drier regions. Anywhere up to four broods may be raised during this time. It builds a cup-like nest on a tree branch away from leaves or cover, less than 5 m (16 ft) above the ground. Rafters and eaves may also be used. It has been observed to build its nest in the vicinity of those of the Magpie-lark (Grallina cyanoleuca), possibly taking advantage of the latter bird's territoriality and aggression toward intruders. Similarly, it is not afraid to build near human habitation.
The nest consists of grass stems, strips of bark, and other fibrous material which is bound and woven together with spider web. Even hair from pet dogs and cats may be used. The female lays two to four small cream-white eggs with brownish markings measuring 16 x 21 mm, and incubates them for 14 days. Like all passerines, the chicks are altricial and nidicolous; they are born naked and helpless with closed eyes, and remain in the nest. Both parents take part in feeding the young, and may continue to do so while embarking on another brood. Nestlings remain in the nest for around 14 days before fledging. Upon leaving, the fledglings will remain hidden in cover nearby for one or two days before venturing further afield, up to 20 m (60 ft) away by the third day. Parents will stop feeding their fledglings near the end of the second week, as the young birds increasingly forage for themselves, and soon afterwards drive them out of the territory.
Cool Facts: The Willie Wagtail was a feature in Australian aboriginal folklore. Aboriginal tribes in parts of southeastern Australia, such as the Ngarrindjeri of the Lower Murray River, and the Narrunga People of the Yorke Peninsula, regard the Willie Wagtail as the bearer of bad news. It was thought that the Willie Wagtail could steal a person's secrets while lingering around camps eavesdropping, so women would be tight-lipped in the presence of the Willie Wagtail. The people of the Kimberley held a similar belief that it would inform the spirit of the recently departed if living relatives spoke badly of them. They also venerated the Willie Wagtail as the most intelligent of all animals. Its cleverness is also seen in a Tinputz tale of Bougainville Island, where Singsing Tongereng (Willie Wagtail) wins a contest among all birds to see who can fly the highest by riding on the back of the eagle. However, the Gunwinggu in western Arnhem Land took a dimmer view and regarded it as a liar and a tattletale. He was held to have stolen fire and tried to extinguish it in the sea in a Dreaming story of the Yindjibarndi people of the central and western Pilbara, and was able to send a strong wind if frightened.
Willie Wagtail is also featured in the quintessential Australian children's book "Blinky Bill grows up" by Dorothy Wall published in 1933.

Found in Songbird ReMix Australia Volume II