Wood Duck
From SongbirdReMixWiki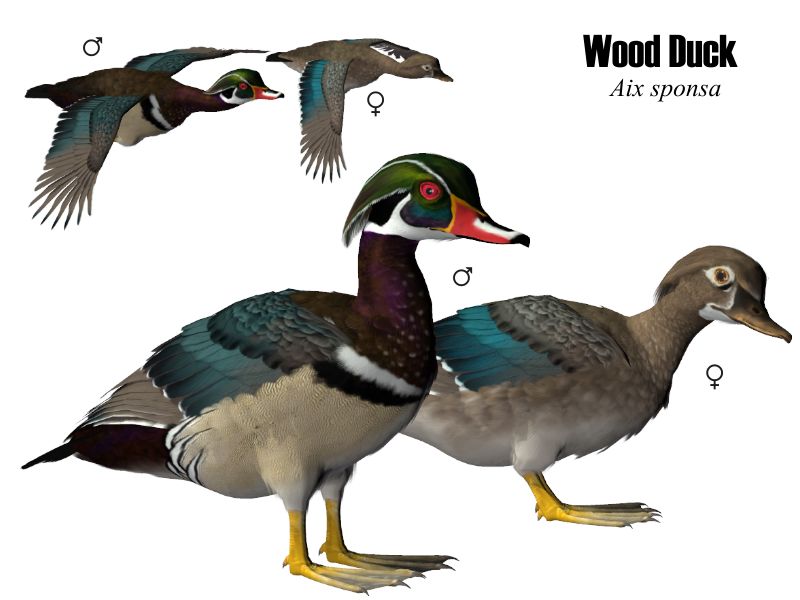 Common Name: Wood Duck
Scientific Name: Aix sponsa
Size: 19-21 inches (47-54 cm); Wingspan: 26-29 inches (66-73 cm)
Habitat: North America; found in eastern North America, the west coast of the United States and western Mexico.
Wood Ducks thrive in bottomland forests, swamps, freshwater marshes, and beaver ponds. They are also common along streams of all sizes, from creeks to rivers, and the sheer extent of these make them an important habitat. Wood Ducks seem to fare best when open water alternates with 50–75% vegetative cover that the ducks can hide and forage in. This cover can consist of downed trees, shrubs such as alder, willow, and buttonbush, as well as emergent herbaceous plants such as arrowhead and smartweeds.
Status: Least Concern. Global population: Unknown amount of individuals. The population of the Wood Duck was in serious decline in the late 19th century as a result of severe habitat loss and market hunting both for meat and plumage for the ladies' hat market in Europe. By the beginning of the 20th century Wood Ducks had virtually disappeared from much of their former range. In response to the Migratory Bird Treaty established in 1916 and enactment of the Federal Migratory Bird Treaty Act of 1918, wood duck populations began to recover slowly. By ending unregulated hunting and taking measures to protect remaining habitat, wood duck populations began to rebound in the 1920s. The development of the artificial nesting box in the 1930s gave an additional boost to Wood Duck production.
Expanding North American Beaver populations throughout the Wood Duck's range have also helped the population rebound as beavers create an ideal forested wetland habitat for Wood Ducks.
The population of the Wood Duck has increased a great deal in the last several years. The increase has been due to the work of many people constructing Wood Duck boxes and conserving vital habitat for the Wood Ducks to breed. During the open waterfowl season, U.S. hunters have only been allowed to take two Wood Ducks per day in the Atlantic and Mississippi Flyways. However, for the 2008–2009 season, the limit was raised to three. The Wood Duck limit remains at two in the Central Flyway and at seven in the Pacific Flyway. It is the second most commonly hunted duck in North America, after the mallard.
Diet: Smartweed, water primrose, panic grass, duckweed, millet, water lily, blackberries and wild cherries, as well as flies, beetles, caterpillars, isopods, and snails. When aquatic foods are unavailable they may take to dry land to eat acorns and other nuts from forests and grain from fields. Diet studies indicate a lot of variability, but plant materials make up 80% or more of what the species eats.
They feed by dabbling or short, shallow dives.
Nesting: The adult male has distinctive multicolored iridescent plumage and red eyes, with a distinctive white flare down the neck. The female, less colorful, has a white eye-ring and a whitish throat. Both adults have crested heads.
The male's call is a rising whistle, jeeeeee; the females utter a drawn-out, rising squeal, do weep do weep, when flushed, and a sharp cr-r-ek, cr-e-ek for an alarm call.
Wood Ducks pair up in January, and most birds arriving at the breeding grounds in the spring are already paired. The Wood Duck is the only North American duck that regularly produces two broods in one year. Wood Ducks are not territorial, with the exception that a male may fight off other males that approach his mate too closely. Courting males swim before a female with wings and tail elevated, sometimes tilting the head backwards for a few seconds. Males may also perform ritualized drinking, preening, and shaking movements. Both members of a pair may preen each other.
Breeding pairs search for nest cavities during early morning. The male stands outside as the female enters and examines the site. They typically choose a tree more than 1 foot and often 2 feet in diameter, with a cavity anywhere from 2–60 feet high (higher sites seem to be preferred). These cavities are typically places where a branch has broken off and the tree's heartwood has subsequently rotted. Woodpecker cavities are used less frequently. Wood Ducks cannot make their own cavities. The nest tree is normally situated near to or over water, though Wood Ducks will use cavities up to 1.2 miles from water.
Nest cavities can have openings as small as 4 inches across, and these may be preferred because they are harder for predators to enter. Wood Ducks sometimes use much larger openings, up to a couple of feet across. Cavity depths are variable; they average about 2 feet deep but in rotten trees can be 15 feet deep (the young use their clawed feet to climb out). Nest boxes of many designs have proved very popular and successful with Wood Ducks, though plastic nest boxes can overheat in strong sun. The female lines the nest with down feathers she takes from her breast.
Individual females typically lay 10-11 eggs per clutch, but some very full nests have been found containing 29 eggs, the result of egg-dumping.
After hatching, the ducklings jump down from the nest tree and make their way to water. The mother calls them to her, but does not help them in any way. The ducklings may jump from heights of up to 89 m (290 ft) without injury.
Cool Facts: Natural cavities for nesting are scarce, and the Wood Duck readily uses nest boxes provided for it. If nest boxes are placed too close together, many females lay eggs in the nests of other females.